Background
Willoughby Ukestars is an evening group of ukulele performers who are either based in the the Willoughby Local Government Area or are students of Ian Porter. It is NOT a typical 'hum and strum' group. We set a higher standard by playing well-known pieces with additional picking, solos and multi-part arrangements. It is a requirement that you can read some notation and know basic scales. If you have attended one of Ian's courses you will automatically qualify.
We usually rehearse for about an hour, have a short drinks break and then use the remaining time to play anything the group wants to play, including open -mic, grey book.
The group plays at community events and markets including in Chatswood Mall, That Great Market and Kirribilli Markets.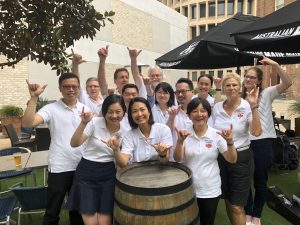 Where
Willoughby Hotel, Penshurst Street, Willoughby East, NSW.
When
Every fortnight, on Mondays from 6:30pm – 9:00pm.
Cost
$10 per head each meeting